Don't Take Our Word For It!
Jake P.
"Out of all of the courses I've seen online, Finance|able has by far been my favorite. Not only did it take less time than other courses, I learned and retained more than any other course I've taken within that short timespan.

Mike is not only passionate about teaching, he also tries to go above and beyond to help people from anywhere, regardless of their background."
Isaiah B.
"Mike and the finance|able team are the real deal. Their teaching reminds me of some of the best instructors I had in the Marine Corps: passionate, academically rigorous, and firmly grounded in the demands of the real world.
So much of this job demands attention to context and deep understanding."
Renato
"The Finance|able course materials ar very clear, detailed and easy to follow.

Mike and his team are clearly passionate about teaching and committed to students' success."
Ayo A.
"Finance|able's teaching is unique, effective, and very much different when compared to other finance learning platforms.

The style of teaching is easily understood, prioritizes conceptual understanding, and helps you apply the materials to real-world scenarios and case studies. Finance|able courses prepare you not to memorize finance concepts but help you speak confidently on it and shine in interviews.

Overall Finance|able is a great platform not only for providing best-in-class teaching but also for opening doors for students from any background to excel in careers in finance."
Sabrina Y.
"Mike clearly has a passion for teaching, which across in his clear and straightforward methods of explaining technical concepts, which I
had never truly understood until finance-able.

As a liberal arts student with no prior finance background, i am so appreciative of Mike's willingness to help even those who are traditionally underrepresented get up the curve."
Samuel S.
"Working with Mike Kimpel/Finance|able has been one of the best experiences I have had.

His passion for helping me understand finance and willingness to chat whenever I needed help made him the best mentor I had to understand the opportunities within finance and investing (& more!).

I would not have been as successful without his guidance, as he continually provided access to information that only comes with being a veteran in the industry. If you have any general interest in careers in finance, Mike is your guy. Thank you, Mike!"
Dev G.
"Finance|Able has been a real game-changer for me. I have used a variety of finance prep courses and the teaching methods offered from Finance|Able are unmatched.
The visual teaching aspect, when it comes to the training videos, makes all the material much easier to grasp along with concise explanations. The courses themselves provide a detailed overview on all things Finance and have helped me prep for all my interviews.
I would highly recommend this platform to anyone who is interested in Finance or is in the midst of recruiting for a job within the financial services industry."
AJ E.
"Mike's charisma towards students looking to break into high-finance is unmatched, and it is clear that Mike truly cares about the outcomes of his students....without Mike, I would not be where I am today, and cannot think of a better mentor & coach who has inspired me to reach for my wildest goals.

Thank you Mike & Financeable!"
Jamie D.
"Finance|able provides an in-depth understanding of financial topics for any and every background.

The training resources in conjunction with Mike Kimpel's passion for teaching will revolutionize how you learn finance.

Mike is not only a teacher of mine but a mentor, who has shown me how to grow my own love for learning."
Are Your Courses Really Different?
We take a highly visual approach to make concepts easier to digest. 
Below is a sample section of our Valuation Fundamentals Mastery course to help you get a feel for the course and our differentiated approach. 
Sample Lesson: DCF Basics
2

Lesson 01: What is Valuation? (20 Min)

Trading & Transaction Comparables (5 Min)

3

Lesson 02: DCF Fundamentals (12 Min)

Intro to DCF Analysis (1 Min)

What is Discounting? (4 Min)

Basic DCF Mechanics (5 Min)

4

Lesson 03: DCF Stage 1 (24 Min)

Calculating Free Cash Flow (7 Min)

Time For Excel: DCF Stage 1 (15 Min)

5

Lesson 04: DCF Stage 2 (17 Min)

Introduction to Stage 2 (2 Min)

How to Calculate Terminal Value (7 Min)

Time for Excel: DCF Stage 2 (7 Min)

6

Lesson 05: Weighted Average Cost of Capital (41 Min)

Introduction to WACC (10 Min)

WACC: Debt and Equity Weights (2 Min)

Time for Excel: Debt and Equity Weights (3 Min)

WACC: Cost of Debt (3 Min)

Time for Excel: Cost of Debt (3 Min)

WACC: The Cost of Equity (14 Min)

Time for Excel: Cost of Equity (1 Min)

Time for Excel: WACC Wrap-Up (3 Min)

7

Lesson 06: Enterprise Value Mechanics (26 Min)

Equity and Debt Fundamentals (5 Min)

The Impact of Cash (6 Min)

Public Company Mechanics (4 Min)

Time for Excel: DCF Wrap-Up (5 Min)

8

Lesson 07: Valuation Multiple Fundamentals (18 Min)

What is a Multiple? (4 Min)

Two Types of Multiples (9 Min)

9

Lesson 08: Valuation Multiples: Trading vs Transaction (45 Min)

Trading Comparables (4 Min)

Excel Exercise: Trading Comparables (Part 1) (7 Min)

Excel Exercise: Trading Comparables (Part 2) (8 Min)

Challenges with Comparables (6 Min)

Transaction Comparables (6 Min)

Excel Exercise: Transaction Comparables (6 Min)

Valuation Big Picture (4 Min)

How are you feeling? - End of Course

10

Lesson 09: Course Wrap-Up (2 Min)
Do You Really Know What You're Doing?
Learn from a former Investment Banking, Private Equity, and Hedge Fund practitioner (and Columbia Business School professor) who has successfully trained thousands of students. 
Mike has accumulated a unique range of experiences as a practitioner and teacher across the core areas of top-tier Finance. 
In Finance|able's courses, Mike ties these experiences together to help students see each situation from buy-side, sell-side, and operating roles using time-tested methods from over a decade and a half working and teaching on Wall Street.
Mike oversees all curriculum development and is building the only curriculum available that is purpose-built to tie together the common threads across disciplines above to maximize your potential as an analyst.
Coming from a non-traditional background, our Founder, Mike Kimpel, is incredibly passionate about helping newcomers learn about (and excel in!) the world of Finance!
You will be able to succeed whether you're headed to Investment Banking, Private Equity, Investment Management, Corporate Finance, or M&A.
You'll learn to be much more than a 'Monkey' with our training. 
Aiming for a
BB/EB/MM banking role or
to work on the Buy-Side?
How Are Your Courses Different?
Bucketed Content 
Our courses are designed to deliver exactly what you need, based on where you are in your career progression.  
Focused + Applicational Content
You're a busy person, with a lot on your plate!
We skip the fluff and zero in on what you really need to know!
As an example, many Excel courses teach you every Excel Function under the sun.  
In contrast, our Excel Survival Kit focuses on what you'll actually use day-to-day as an analyst. 
And our Excel course is built around a comprehensive project that actually reflects what you will actually do on the job!
We continue to be baffled by financial analyst programs that boast about 10-20+ hours of content...in a world where attention spans are shrinking by the minute.
It reminds us of the famous Mark Twain Quote:
"I apologize for such a long letter - I didn't have time to write a short one."
Don't worry, you won't need 20+ hours to learn core topics with our courses!

Highly Visual Approach
Many finance courses look like a copy-paste from a textbook to a slide. 
Let's face it, nobody likes learning this way...especially not in 2022.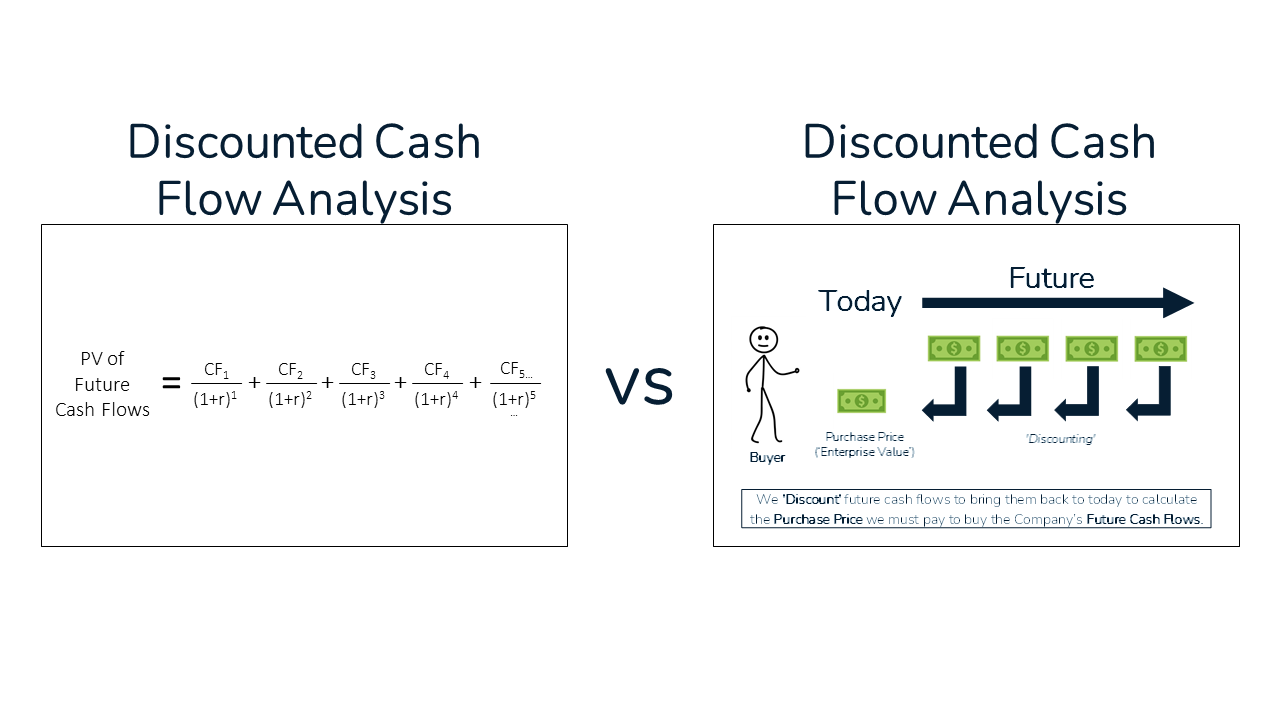 Our courses are intentionally designed with a highly-visual approach to help make learning easier, more engaging...and call us crazy...but even a little bit fun!
Dynamic (not Static) Mental Frameworks
Most intro-level modeling courses are built around a particular company case. 
This sounds like a great idea, but it has two major issues:
Attempting to learn company-specific details while simultaneously learning model mechanics (often ends with information overload and pure confusion).
Building your foundational constructs around a single company. But every model build has company-specific nuances. 
While we will offer real-company cases, our foundational courses are built around a simplified example to ensure you build a strong conceptual foundation.
We further reinforce your learning with Visual Mental Maps for everything from Valuation to Financial Modeling. 
With our courses and mental maps, you will be able to attack any model with confidence instead of getting lost in one-off nuances of individual companies. You won't get lost in the weeds in our courses!
Embedded Interview Prep
Within each section of our Concepts courses, you'll find a walkthrough of common interview questions tied to the concepts covered. 
With this approach, we not only help you build a strong conceptual foundation but also prepare you to nail your interviews. 
A True 'Learning Journey'
We know your foundational training is only the beginning. 
And we build our courses to provide you with exactly what you need at every stage of your learning journey.  
In the end, we're aiming to provide you with everything you need to survive your first 5-10 years on the job. 
Interested, But Not Ready To Take The Plunge?
Add your email to the mailing list to get the latest updates.